Apr. 21, 2017
Construction Blasting for Parking and Transportation Center to Begin April 25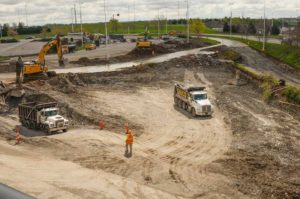 PLEASE BE AWARE that construction of the Parking and Transportation Center will require blasting beginning Tuesday, April 25, at 10 a.m. and again at 1 p.m., if needed. This single, large blast will take place at the Parking and Transportation Center construction site, located directly south of the current Short Term Garage, and will continue Monday – Friday at 10 a.m. (and 1 p.m., as necessary) for the next four weeks.
Some noise and vibrations associated with the blast will likely be noticeable in and around the terminal building. This blasting is necessary for rock removal for the construction of the new six-level, 2,000-space Parking and Transportation Center.
Until the "all clear" is given, vehicle traffic at the Long Term A/Short Term Garage/Rental Car Facility toll plaza and traffic on Terminal Drive will be asked to stop. Pedestrian traffic near the construction site will also be asked to stop. The traffic stop should last approximately three minutes.
We apologize for any inconvenience this may cause. These adjustments are necessary to make needed improvements associated with BNA Vision, our dynamic growth and expansion plan for the airport.
About Nashville International Airport®
As infrastructure critical to the region's growth and prosperity, BNA is a vital asset for Middle Tennessee and serves as a gateway to Music City and beyond. According to a recent State of Tennessee study, in 2019 alone, BNA generated more than $9.9 billion total economic impact.  BNA supported more than 76,000 jobs in the region and produced more than $443 million in state, local and federal taxes. BNA receives no local tax dollars.
NASHVILLE INTERNATIONAL AIRPORT®, 
®, COMMANDER BERRY FIELD®, JOHN C. TUNE AIRPORT®, and JWN®, among others, are the registered trademarks and trademarks of The Metropolitan Nashville Airport Authority ("MNAA"). Use of these trademarks without permission from MNAA is strictly prohibited.