May. 8, 2017
Construction Blasting for Terminal Garage to Increase to 3x per Day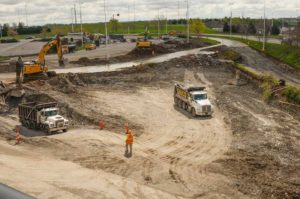 PLEASE BE AWARE that construction of the Terminal Garage will require an increase in blasting to three times per day beginning Tuesday, May 9, at 9 a.m., noon and 3 p.m. Each single, large blast will take place at the Terminal Garage construction site, located directly south of the current Short Term Garage, and will continue Monday – Saturday at 9 a.m., noon and 3 p.m. for the next two weeks.
Some noise and vibrations associated with the blast will likely be noticeable in and around the terminal building. This blasting is necessary for rock removal for the construction of the new six-level, 2,000-space Terminal Garage.
Until the "all clear" is given, vehicle traffic at the Long Term A/Short Term Garage/Rental Car Facility toll plaza and traffic on Terminal Drive will be asked to stop. Pedestrian traffic near the construction site will also be asked to stop. The traffic stop should last approximately three minutes.
We apologize for any inconvenience this may cause. These adjustments are necessary to make needed improvements associated with BNA Vision, our dynamic growth and expansion plan for the airport.
With nearly 18.3 million passengers in in 2019, Nashville International Airport (BNA) has been one of the fastest growing airports in North America. For more information, visit flynashville.com. Follow us on Facebook: @NashvilleInternationalAirport, Twitter: @Fly_Nashville and Instagram: @FlyNashville. Learn more about BNA Vision, our growth and expansion plan for the airport, at BNAVision.com.