Mar. 21, 2018
MNAA Celebrates Newly Expanded and Upgraded International Arrivals Building
Ribbon-cutting marks completion of first BNA Vision project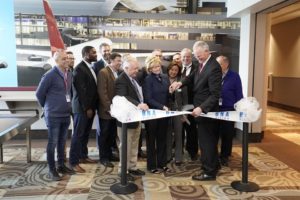 NASHVILLE – The Metropolitan Nashville Airport Authority (MNAA) staff and Board of Commissioners today held a ribbon-cutting ceremony for the opening of Nashville International Airport's (BNA) expanded and upgraded interim International Arrivals Building (IAB).
The milestone event marked the first project to be completed under BNA Vision, MNAA's dynamic growth and expansion plan for Nashville International Airport.
BNA Vision will include the construction of a larger state-of-the-art International Arrivals Facility (IAF), which is slated to open in 2023. To accommodate immediate needs for additional international capacity, the current IAB has undergone $8.2 million in improvements to serve as an interim international passenger processing and welcome center while the permanent IAF is being designed and constructed.
The interim IAB will accommodate immediate needs for additional international capacity, specifically with British Airways' new nonstop service from BNA to London's Heathrow Airport five days a week, beginning May 4, 2018.
This new service adds to international destinations travelers can currently fly nonstop via BNA including Calgary, Cancun, Cozumel, Grand Bahama Island, Montego Bay, Punta Cana and Toronto.
"By all projections, Nashville is increasingly becoming an international destination, and it's important we have the facilities to accommodate that trend," said Bobby Joslin, MNAA board chair. "This is the first phase under our BNA Vision plan and will serve to meet those international travel demands until the terminal expansion is completed. We're another step closer to the world-class airport we're building for this world-class city."
"Our upgraded interim International Arrivals Building expands our ability to serve international passengers flying to Nashville, whether from the United Kingdom, Mexico, the Caribbean, or elsewhere," said Doug Kreulen, MNAA president and CEO. "It was built with convenience in mind and will significantly improve and expedite the process for passengers until our permanent, state-of-the-art International Arrivals Facility opens in 2023."
Upgrades to the interim IAB include:
A second passenger boarding bridge;
Improvements to the U.S. Customs and Border Protection processing area, including self-check kiosks and screening equipment; and
A new, direct connection between the interim IAB and the baggage claim, eliminating the need to re-check baggage or be re-screened by the Transportation Security Administration, unless transferring to a domestic flight.
Construction on the interim IAB project began in May 2017 and concluded at the end of February 2018. As a result of the upgrades and improvements, BNA's processing capacity for international arrivals has increased from 200 passengers per hour to 400 passengers per hour.
As with all other airport capital improvement projects, no local tax dollars will be used to fund BNA Vision. Take a virtual 360-degree tour, view renderings and watch the BNA Vision video at BNAvision.com.
BNA is currently served by 13 airlines and offers 450 daily flights. Nashville International Airport provides nonstop air service to more than 60 destinations.
About Nashville International Airport®
As infrastructure critical to the region's growth and prosperity, BNA is a vital asset for Middle Tennessee and serves as a gateway to Music City and beyond. According to a recent State of Tennessee study, in 2019 alone, BNA generated more than $9.9 billion total economic impact.  BNA supported more than 76,000 jobs in the region and produced more than $443 million in state, local and federal taxes. BNA receives no local tax dollars.
NASHVILLE INTERNATIONAL AIRPORT®, 
®, COMMANDER BERRY FIELD®, JOHN C. TUNE AIRPORT®, and JWN®, among others, are the registered trademarks and trademarks of The Metropolitan Nashville Airport Authority ("MNAA"). Use of these trademarks without permission from MNAA is strictly prohibited.