Jul. 18, 2018
Airport Authority Awards Major Construction Contract for Terminal Parking Garage and Office Building; $144 million project a component of 'BNA Vision' growth and expansion plan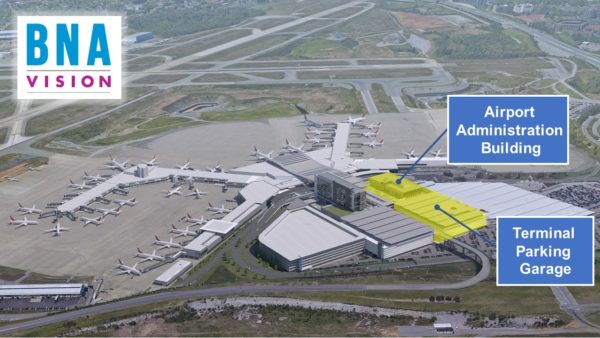 NASHVILLE – The Metropolitan Nashville Airport Authority (MNAA) Board of Commissioners at the July board meeting awarded Messer Construction Co. the terminal parking garage and airport administrative office building project. The $144 million design-build contract is part of BNA Vision, the Airport Authority's dynamic growth and expansion plan for Nashville International Airport (BNA).
Construction of the parking garage will begin in early 2019 with an anticipated completion of early 2020. The airport administrative office building will be complete in fall 2020.
"We're taking BNA Vision from renderings to reality with each passing day," said Dr. A. Dexter Samuels, MNAA Board of Commissioners chair. "Our board of commissioners and airport staff are fully committed to meeting the needs of our community by preparing for future growth at the airport. BNA Vision is a critical transportation infrastructure project for this region, and we continue on an exciting path for Music City and the BNA community."
The project includes a six-level parking garage with approximately 3,000 spaces, a large pedestrian plaza and 64,000-square-foot airport administrative office building on the fifth level. The new parking garage will occupy part of the footprint of the existing Short Term Parking Garage, which will be demolished later this year. The administrative office building will replace the Airport Authority's current office space in the terminal, as well as providing space for the Transportation Security Administration (TSA) and other airport services.
"The awarding of this contract is the next step forward for BNA Vision," said Doug Kreulen, MNAA president and CEO. "This project will address our need for additional short term parking, as well as providing a new office building for MNAA staff and others. Once the new office building is complete, we will demolish MNAA's current office space, which is located above the security checkpoint, in preparation for the upcoming renovation and expansion of our terminal lobby. It's a measured, phased-in process designed to mitigate inconvenience and airport disruption."
This contract also includes designing an additional six-level, 1,800-space parking structure capable of supporting a hotel on the fifth level. The construction portion of this project will be competitively bid out on a later date.
"Messer has a long, successful history of working with the Metropolitan Nashville Airport Authority and the local market strength and expertise to source and perform the work in partnership with Moody Nolan, Charter Construction and Pinnacle Construction Partners," said Tom Lampe, vice president and Nashville region leader for Messer Construction Co. "Our project team and sub consultants will work together in an integrated approach with the airport design, construction and operations teams to ensure we achieve the goals for safety, cost, quality and schedule, and enable passengers and employees to have positive experiences at BNA."
Messer Construction Co. is based in Cincinnati, Ohio, with a local office in Nashville. The company has more than 85 years of history as a construction manager and general contractor for complex, commercial projects. Messer Construction Co. has experience with aviation industry projects dating back to the 1940s, in addition to its work in health care, higher education, science and technology, and industrial sectors.
Other BNA Vision projects currently underway include the airport's new Parking and Transportation Center, set to open in late 2018; the terminal apron and taxilane expansion project, which will be completed in two phases with the first finished in summer 2019; and the Concourse D and terminal wings expansion, set to open in summer 2020.
Launched in July 2016, BNA Vision is MNAA's dynamic growth and expansion plan for Nashville International Airport. Upon its completion in 2023, BNA Vision will include a Parking and Transportation Center, new Concourse D, expanded central terminal, airport administration building, potential hotel and transit connection, and a state-of-the-art International Arrivals Facility.
As with all other airport capital improvement projects, no local tax dollars will be used to fund BNA Vision. Take a virtual 360-degree tour, view renderings and watch the BNA Vision video at BNAvision.com.
BNA is currently served by 14 airlines and offers 460 daily flights. Nashville International Airport provides nonstop air service to more than 65 destinations.
About Nashville International Airport®
As infrastructure critical to the region's growth and prosperity, BNA is a vital asset for Middle Tennessee and serves as a gateway to Music City and beyond. According to a recent State of Tennessee study, in 2019 alone, BNA generated more than $9.9 billion total economic impact.  BNA supported more than 76,000 jobs in the region and produced more than $443 million in state, local and federal taxes. BNA receives no local tax dollars.
NASHVILLE INTERNATIONAL AIRPORT®, 
®, COMMANDER BERRY FIELD®, JOHN C. TUNE AIRPORT®, and JWN®, among others, are the registered trademarks and trademarks of The Metropolitan Nashville Airport Authority ("MNAA"). Use of these trademarks without permission from MNAA is strictly prohibited.