Nov. 14, 2018
BNA Awards Major Construction Contract for Terminal Lobby Renovation and International Arrivals Facility
 $327 Million project the biggest piece of 'BNA Vision' growth and expansion plan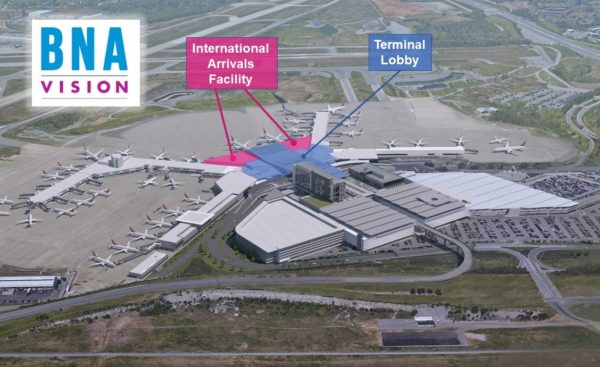 NASHVILLE – Nashville International Airport (BNA) Board of Commissioners at the November board meeting on Nov. 14 awarded Hensel Phelps the terminal lobby and International Arrivals Facility (IAF) project.
The $327 million design-build contract is for the largest component of BNA Vision, the dynamic growth and expansion plan for Nashville International Airport.
Construction will begin in fall 2019 with an anticipated completion of late 2023.
"This contract award marks the start of the sixth and largest BNA Vision component," said Dr. A. Dexter Samuels, BNA Board of Commissioners chair. "When complete, this project will provide travelers an expanded and visually engaging terminal lobby as well as a state-of-the-art International Arrivals Facility to accommodate future international flights. From a design perspective, we think this will be the most transformative undertaking in the history of this airport."
The 440,000-square-foot project entails expanding and renovating the airport's lobby, and building a state-of-the-art International Arrivals Facility (IAF) to increase capacity to accommodate more international travel. By its completion in 2023, the renovation will elevate the terminal lobby's ceiling, add a distinctive, sweeping roof canopy, connect terminal garage parking facilities to the central terminal with a pedestrian bridge, increase capacity for security screening with an expanded checkpoint for up to 24 screening lanes and introduce a new central marketplace with compelling views of the airfield.
"The terminal lobby renovation and IAF project is key to connecting Nashville to even more destinations around the world," said Doug Kreulen, BNA president and CEO. "Our passenger growth the last several years has been extraordinary, and multiple projections indicate our numbers will continue to climb for several years to come. This project allows us to meet the passenger demands of this region and create the world class airport Nashville needs and deserves."
The new IAF will be built onto the west side of the terminal with six international aircraft gates and a new Customs and Border Protection (CBP) area. It will accommodate the increasing number of passengers flying to Nashville from international destinations, allowing BNA to attract additional nonstop service to and from Europe, Asia, Latin America and more.
"Hensel Phelps is honored to be selected as the design-build contractor for this project," said Kirk Hazen, Hensel Phelps vice president and district manager. "We understand that every great landmark starts with a vision, and it's our job to bring BNA Vision to life with a comprehensive team approach that begins with innovative planning and extends throughout the entire life of the project. We approach every project 'The Hensel Phelps Way,' inspiring trust and confidence in everything we do. From the gate where passengers arrive, to the belt where their bags are delivered, our team works to make construction invisible, allowing Nashville visitors a positive first impression of the city. The Hensel Phelps Design Build Team is proud to participate in building this Nashville landmark."
Based in Greeley, Colo., Hensel Phelps has more than 80 years of history and is nationally known for its expertise in major aviation projects. In addition to the terminal lobby expansion and IAF project, Hensel Phelps was awarded the design-build contract for BNA's Concourse D and terminal wings expansion, which is underway now and expected to be complete in 2020.
Other BNA Vision projects currently underway include the Parking and Transportation Center, which will open in December; the terminal apron and taxilane expansion project, which will be completed in two phases with the first finished in summer 2019; and a new terminal parking garage, airport administrative building and pedestrian plaza, set to open fall 2020.
Launched in July 2016, BNA Vision is the dynamic growth and expansion plan for Nashville International Airport. Upon its completion in 2023, BNA Vision will include a Parking and Transportation Center, new Concourse D, expanded terminal lobby and security checkpoint, a state-of-the-art International Arrivals Facility, airport administration building, and potential hotel and transit connection.

As with all other airport capital improvement projects, no local tax dollars will be used to fund BNA Vision. Take a virtual 360-degree tour, view renderings and watch the BNA Vision video at BNAvision.com.
BNA is currently served by 15 airlines and offers 460 daily flights. Nashville International Airport provides nonstop air service to more than 65 destinations.
About Nashville International Airport®
As infrastructure critical to the region's growth and prosperity, BNA is a vital asset for Middle Tennessee and serves as a gateway to Music City and beyond. According to a recent State of Tennessee study, in 2019 alone, BNA generated more than $9.9 billion total economic impact.  BNA supported more than 76,000 jobs in the region and produced more than $443 million in state, local and federal taxes. BNA receives no local tax dollars.
NASHVILLE INTERNATIONAL AIRPORT®, 
®, COMMANDER BERRY FIELD®, JOHN C. TUNE AIRPORT®, and JWN®, among others, are the registered trademarks and trademarks of The Metropolitan Nashville Airport Authority ("MNAA"). Use of these trademarks without permission from MNAA is strictly prohibited.