Jan. 4, 2019
Demolition Work Scheduled for Jan. 4-11
Tomorrow night (Jan. 4), demolition work will begin removing the old exit ramps at CONRAC, the airport's rental car facility. Newer exit ramps, completed in 2018, are already in service.
NOTE: You may hear nighttime construction noise over the next week, possibly including some loud popping sounds. Rental car facility operations will not be affected by this activity (other than the sights and sounds of construction).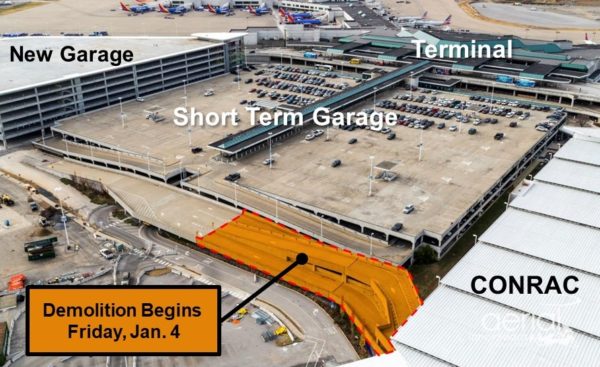 The Metropolitan Nashville Airport Authority (MNAA) was established in 1970, and owns and operates Nashville International Airport (BNA) and John C. Tune Airport (JWN). With more than 15.9 million passengers visiting each year, Nashville International Airport is the fourth fastest growing airport among the top 50 airports in North America. BNA serves 460 daily flights to more than 65 nonstop markets. It is now the 33rd busiest airport in the U.S. MNAA is an Equal Opportunity Employer. For more information, please visit flynashville.com. Like us on Facebook at facebook.com/NashvilleInternationalAirport and follow us on Twitter: @Fly_Nashville and Instagram: @FlyNashville. Learn more about BNA Vision, our growth and expansion plan for the airport, at BNAVisionNashville.com.