Feb. 28, 2019
VIDEO: Short Term Garage, Before and After
It feels like the old Short Term Parking Garage has disappeared almost overnight! Soon, you'll see the beginnings of a NEW Terminal Garage that will be built to replace it. Bigger, better, modern — and opening next year.
What's coming: New Terminal Garage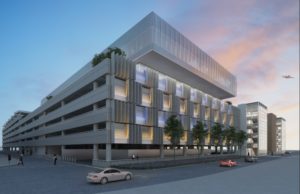 This project will include a six-level parking garage near the terminal, a new office building and pedestrian plaza.
3,000-space terminal parking garage, which will be built in part of the footprint of the existing Short Term Parking Garage (set for demolition later this year)
64,000-square-foot airport administrative office building, which will replace BNA's existing office space on the fourth floor of the terminal, and provide space for the Transportation Security Administration (TSA) and other airport services
Plaza on the fifth level
Design and construction by Messer Construction Co. and Moody Nolan
When will it be finished?
Completion of the parking garage is anticipated in Early 2020, and the office building and pedestrian plaza are scheduled for completion in Fall 2020.
The Metropolitan Nashville Airport Authority (MNAA) was established in 1970, and owns and operates Nashville International Airport (BNA) and John C. Tune Airport (JWN). With more than 15.9 million passengers visiting each year, Nashville International Airport is the fourth fastest growing airport among the top 50 airports in North America. BNA serves 460 daily flights to more than 65 nonstop markets. It is now the 33rd busiest airport in the U.S. MNAA is an Equal Opportunity Employer. For more information, please visit flynashville.com. Like us on Facebook at facebook.com/NashvilleInternationalAirport and follow us on Twitter: @Fly_Nashville and Instagram: @FlyNashville. Learn more about BNA Vision, our growth and expansion plan for the airport, at BNAVisionNashville.com.