Dec. 6, 2019
Important Announcement: Curbside Canopy Replacement to Begin Monday, Dec. 9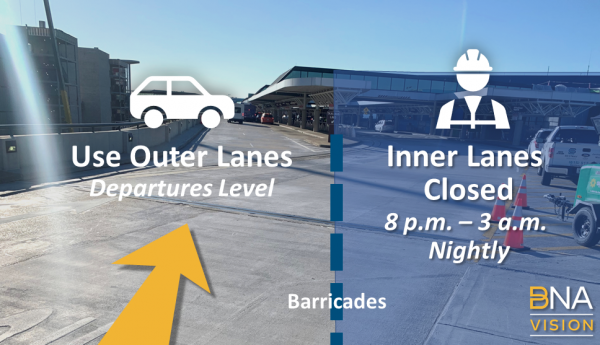 Start Date: Monday, Dec. 9

BNA Vision is transforming Nashville International Airport in a variety of ways, as you've probably noticed if you've visited recently. One project that kicks off on Monday, Dec. 9, is the replacement of the curbside canopy on the Departures level of the main terminal.
Demolition work will begin the night of Monday, Dec. 9, and traffic congestion is possible. Please note the following tips as this work gets underway:
Dropping off or picking up a traveler? Use the Donelson Pike entrance to BNA (Exit 216 from I-40W, Exit 216B from I-40E) to avoid traffic congestion you may encounter at the I-40E entrance. (You may still encounter congestion if you're heading to the Departures level and merge into Level 3 lanes.)
Get to the airport early if you're catching a flight. Traffic congestion may cause delays on the Terminal Drive loop and the I-40 East entrance to BNA during peak times! We advise arriving at least two (2) hours before your scheduled flight, just in case.
The sidewalk at the far North end of the main terminal (top of the ramp up to where the existing canopy begins) will be closed during daytime hours. The passenger entrances are not affected by this sidewalk closure. Sidewalks are otherwise unaffected.
The North Service Animal Relief Area on the Departures level will close due to this construction. The South Service Animal Relief Area on the Departures level will remain open. (FYI: A bigger and better Service Animal Relief Area is coming on the North side of the terminal next summer!
We apologize for any inconvenience as we continue making enhancements at BNA. We're building a world-class airport for our world-class city, and we value each of our guests – all 17 million and counting! We're growing and expanding with BNA Vision so that we may better serve our city and region. Thank you for your patience.
About Nashville International Airport®
As infrastructure critical to the region's growth and prosperity, BNA is a vital asset for Middle Tennessee and serves as a gateway to Music City and beyond. According to a recent State of Tennessee study, in 2019 alone, BNA generated more than $9.9 billion total economic impact.  BNA supported more than 76,000 jobs in the region and produced more than $443 million in state, local and federal taxes. BNA receives no local tax dollars.
NASHVILLE INTERNATIONAL AIRPORT®, 
®, COMMANDER BERRY FIELD®, JOHN C. TUNE AIRPORT®, and JWN®, among others, are the registered trademarks and trademarks of The Metropolitan Nashville Airport Authority ("MNAA"). Use of these trademarks without permission from MNAA is strictly prohibited.