May. 20, 2020
Airport Authority Awards Contract for Major BNA Roadway Improvements; $137 Million Project Will Expand Airport Roadway System and Surface Parking Lots
NASHVILLE – The Metropolitan Nashville Airport Authority (MNAA) Board of Commissioners today selected Superior Construction Company Southeast, LLC for Nashville International Airport (BNA)'s terminal access roadway improvements project.
The board approved an initial $18.4 million contract for pre-construction services at today's meeting, with additional funding for construction to be approved as the project progresses over the next three years. The design-build contract, estimated at $137 million, is for a key component of BNA Vision, the airport's dynamic expansion and renovation plan.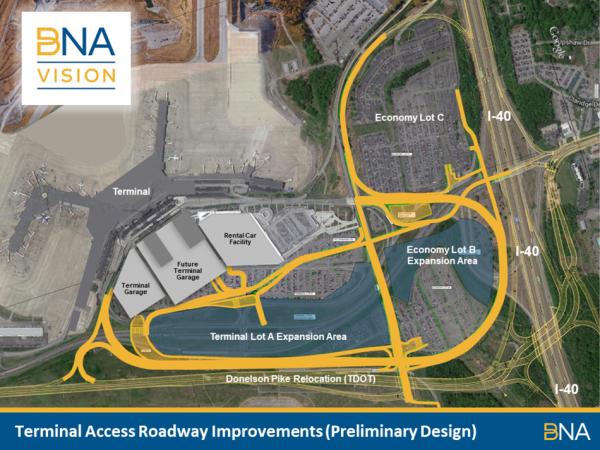 Click graphic to enlarge
Roadway construction will begin in spring 2021 with completion anticipated in late 2024.
"Today's board approval kicks off a critical infrastructure program, another step forward for BNA Vision and the world-class airport we're building for Nashville and the region we serve," said Dr. A. Dexter Samuels, Chair of the MNAA Board of Commissioners. "We congratulate Superior Construction Company Southeast on being selected for this project and eagerly anticipate moving forward."
The project includes a goal of more than $25 million in contract opportunities for small, minority and woman-owned business enterprises (SMWBEs) and will create approximately 150 jobs.
"To build a bigger, better airport requires a more strategic roadway system to improve traffic flow," said Doug Kreulen, MNAA president and CEO. "This project is essential as we look to the future and prepare for growth over the next 20 years. We are now entering the most transformative phase of our expansion with the terminal renovation underway and the launch of the roadway improvements project. With continued support from our Board of Commissioners and our construction partners, the best is yet to come."
This project will dramatically enhance BNA's roadway system by adding a new outer loop roadway and realigning and widening existing roadways to build greater capacity and improve traffic circulation. It will be executed concurrently with the Tennessee Department of Transportation's Donelson Pike relocation project, slated to begin in early 2021 with completion anticipated in late 2023.
Additionally, the roadways project entails significant parking enhancements, including the expansions of Terminal Lot A and Economy Lot B, improving access to Economy Lot C, building a consolidated toll plaza for the airport's Terminal Garage complex and enlarging the airport's cell phone waiting area and ride share driver waiting area.
"The Superior team is proud to have been selected for this critical infrastructure project," said Pete Kelley, president of Superior Construction Company Southeast. "Our team is committed to working with Nashville International Airport to provide the most cost effective, efficient solution that will enhance BNA's infrastructure. We look forward to a successful partnership."
Superior Construction Company is a fourth-generation, family-owned U.S. construction firm based in Jacksonville, Florida, with operations throughout the Southeast and Midwest.  The firm's Nashville office will manage the design and construction of BNA's terminal access roadway improvements project.
Launched in July 2016, BNA Vision is the dynamic expansion and renovation plan for Nashville International Airport. By 2023, completed projects will include a three-phased terminal garage parking expansion, new Concourse D, additional space for ticketing and baggage claim, renovated terminal lobby, expanded security checkpoint, a state-of-the-art International Arrivals Facility, a variety of dining, retail and service amenities, airport administration building, pedestrian plaza, hotel and potential transit connection.
Completed projects include upgrades to the existing interim International Arrivals Building, a six-level Terminal Garage with 2,200 parking spaces and a dedicated Ground Transportation Center, and phase 1 of the Terminal Apron and Taxilane Expansion. Projects nearing completion and opening this summer include a second six-level Terminal Garage with 2,800 spaces and a new Valet parking center, and the new Concourse D.
As with all other airport capital improvement projects, no local tax dollars will be used to fund BNA Vision. Take a virtual 360-degree tour, view renderings and watch the BNA Vision video at BNAVision.com.
About Nashville International Airport®
As infrastructure critical to the region's growth and prosperity, BNA is a vital asset for Middle Tennessee and serves as a gateway to Music City and beyond. According to a recent State of Tennessee study, in 2019 alone, BNA generated more than $9.9 billion total economic impact.  BNA supported more than 76,000 jobs in the region and produced more than $443 million in state, local and federal taxes. BNA receives no local tax dollars.
NASHVILLE INTERNATIONAL AIRPORT®, 
®, COMMANDER BERRY FIELD®, JOHN C. TUNE AIRPORT®, and JWN®, among others, are the registered trademarks and trademarks of The Metropolitan Nashville Airport Authority ("MNAA"). Use of these trademarks without permission from MNAA is strictly prohibited.