Jun. 17, 2020
BNA Opens a Second Terminal Garage
Expands Parking, Improves Valet Service; Includes Sustainable Features, Customer Conveniences
NASHVILLE – Nashville International Airport (BNA) will open a second state-of-the-art parking facility tomorrow and marked the occasion today at a ceremonial ribbon-cutting that included Mayor John Cooper, members of the Metropolitan Nashville Airport Authority (MNAA) Board of Commissioners, MNAA President and CEO Doug Kreulen and others.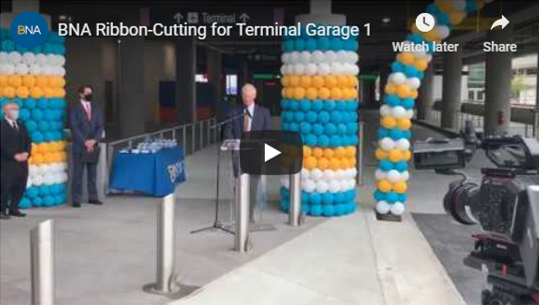 Identified as "Terminal Garage 1," it's the airport's newest parking option, adding more than 2,000 convenient spaces, a new and improved Valet center and a variety of customer amenities. The first four levels of the six-tiered garage and Valet center will open June 18. The final two parking levels will open in early 2021, for a total of 2,800 spaces, along with a pedestrian plaza that will feature green space, seating areas, a dog park and public art. Additionally, a new airport administrative building is under construction on top of the garage and is slated to open in December.
"Today's ceremony is a milestone for both Nashville International Airport and our entire community," said Mayor John Cooper. "BNA's continued growth is an indication of Nashville's economic strength and vitality as a global destination for both businesses and visitors. It's a pleasure to celebrate our airport's new amenities and the opening of this beautiful new space as we look toward the road ahead. Our airport has implemented comprehensive sanitization and other safety measures as our nation returns to air travel, and BNA's staff is ready to showcase Nashville's world-class hospitality once again."
Added incoming MNAA Board Chair Trey Harwell: "Opening this newest parking garage adds another key building block to our long-range plan for the airport and the community we serve. Terminal Garage 1 is a beautiful, modern facility that places a premium on customer convenience, including a bigger, better Valet center. There's more to come, so stay tuned."
The $183 million Terminal Garage 1 is located directly across from the BNA terminal building. Terminal Garage 2, which opened in December 2018, offers 2,200 covered parking spaces and a dedicated ground transportation center for commercial vehicle pick-ups. A third garage will open in late 2023 with 1,800 additional parking spaces.
"This facility is part of a forward-thinking strategy that provides for today's customer needs and anticipates tomorrow's growth," said BNA President and CEO Doug Kreulen. "We appreciate the great work of our business partners, Messer Construction and Moody Nolan, and we want to highlight the significant involvement of the small, minority and woman-owned businesses who contributed to the construction of this garage with $41.3 million in contracts."
Built by Messer Construction Co. and designed by Moody Nolan, Terminal Garage 1 represents more than 807,000 hours of labor by more than 1,565 workers, 93 percent of whom are local.
Terminal Garage 1 features and conveniences include:
dedicated Valet customer entrance
double helix ramp system for easy access to parking levels
electric vehicle charging stations
tire inflation station
vehicle locator kiosks
pay-on-foot kiosks
flight information displays
eight public elevators
accent exterior lighting, programmable in a variety of colors and themes
Terminal Garage 1 was designed and built utilizing Parksmart℠, the world's only rating system designed to advance sustainable mobility through smarter parking structure design and operation. "Green" components of Terminal Garage 1 include recycling receptacles, energy efficient lighting programmed to dim when no motion is detected, a 50,000-gallon cistern for rainwater harvesting and landscape irrigation, and an emphasis on regional labor and regionally sourced materials.
Terminal Garage 2 earned Parksmart Bronze certification in August 2019, making it one of only 35 parking structures in the world and the first in Tennessee to earn this distinction. BNA anticipates receiving Parksmart certification for Terminal Garage 1 in the coming months.
Launched in July 2016, BNA Vision is the dynamic expansion and renovation plan for Nashville International Airport. By 2023, completed projects will include three Terminal Garages totaling 6,800 spaces of covered parking, new Concourse D, additional space for ticketing and baggage claim, renovated terminal lobby, expanded security checkpoint, a state-of-the-art International Arrivals Facility, a variety of dining, retail and service amenities, airport administration building, pedestrian plaza, hotel and potential transit connection.
Completed projects include upgrades to the existing interim International Arrivals Building, Terminal Garage 2, North Terminal Wing Expansion and phase 1 of the Terminal Apron and Taxilane Expansion. Projects nearing completion include the new Concourse D (opening in July) and the South Terminal Wing Expansion (opening this fall).
No local tax dollars are being used to fund BNA Vision. Take a virtual 360-degree tour, view renderings and watch the BNA Vision video at BNAVision.com.
---
With nearly 18.3 million passengers in 2019, Nashville International Airport (BNA) has been one of the fastest growing airports in North America. According to a recent study, in 2018 alone, BNA generated more than $7.1 billion in total economic impact, supported more than 67,000 jobs in the region, and produced more than $392 million in state, local and federal taxes. BNA receives no local tax dollars. For more information, visit flynashville.com. Follow us on Facebook: @NashvilleInternationalAirport, Twitter: @Fly_Nashville and Instagram: @FlyNashville. Learn more about BNA Vision, our growth and expansion plan for the airport, at BNAVision.com.
###
About Nashville International Airport®
As infrastructure critical to the region's growth and prosperity, BNA is a vital asset for Middle Tennessee and serves as a gateway to Music City and beyond. According to a recent State of Tennessee study, in 2019 alone, BNA generated more than $9.9 billion total economic impact.  BNA supported more than 76,000 jobs in the region and produced more than $443 million in state, local and federal taxes. BNA receives no local tax dollars.
NASHVILLE INTERNATIONAL AIRPORT®, 
®, COMMANDER BERRY FIELD®, JOHN C. TUNE AIRPORT®, and JWN®, among others, are the registered trademarks and trademarks of The Metropolitan Nashville Airport Authority ("MNAA"). Use of these trademarks without permission from MNAA is strictly prohibited.