Jul. 22, 2020
What's Next?
BNA Vision is transforming Nashville International Airport in exciting ways! This year has been perhaps the most transformative with the greatest number of accomplishments so far in the life of our expansion program.
This year, we've celebrated the following:
Opening new ticketing counters in the North Terminal Wing Expansion (Level 3)
Opening a new rental car check-in area in the North Terminal Wing Expansion (Level 2)
Moving baggage service offices to the North Terminal Wing Expansion (Level 2)
Opening the first four levels of Terminal Garage 1, including a new and improved Valet center
Significant progress on Baggage Claim renovations (terrazzo flooring, upgrades to several ceiling-based systems)
Early work on the new International Arrivals Facility (much more to come; opening in 2023)
Construction of new pre-security escalators that will provide access between levels (opening this fall)
Opening the new North Security Checkpoint (8 lanes)
Opening Concourse D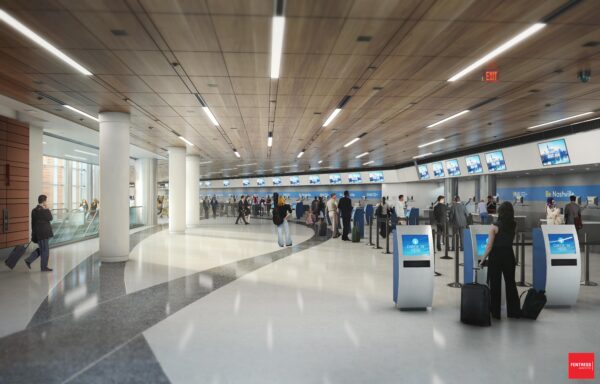 So what's next?
There's much more to come in 2020 and beyond.
In August 2020:

The South Terminal Wing Expansion (Level 3) will open with new ticketing stations and the South Security Checkpoint.

In September 2020:

Two new baggage carousels will open on Level 2 as part of the South Terminal Wing Expansion.
Two new curbside Service Animal Relief Areas will open on the Departures level.
New restrooms will open on the South side of the Baggage Claim (restrooms opened on the North side in December 2019).

Terrazzo flooring installation will continue on the Departures level.
A new airport administrative building will open on top of Terminal Garage 1 in the fall.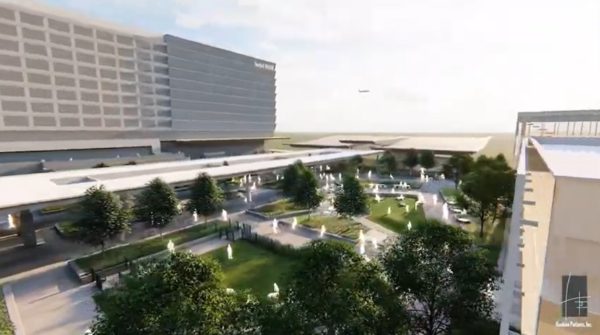 Looking ahead:
2021:
The top two levels of Terminal Garage 1 will open in early 2021, including a new pedestrian plaza.
Terminal renovations will continue, including the central security checkpoint expansion, new roof canopy and interior finishes (complete in 2023).
New International Arrivals Facility construction will continue (opening in 2023).
2023:
Major terminal renovations will be complete.
The Security Screening Checkpoint expansion will be complete.
The new International Arrivals Facility will open.
The new central marketplace will open (just beyond the security checkpoint)
An additional Terminal Garage will open with 1,800 more covered parking spaces.
The pedestrian bridge connecting Terminal Garage 1 to the Terminal will be complete.
Our new hotel will open.
Phase 2 of the Terminal Apron and Taxilane Expansion will be complete.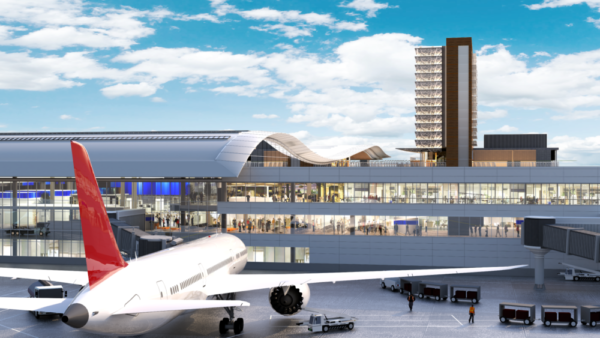 Our Airport: New & Improved
We're building a bigger and better BNA that puts the passenger experience first with more parking, more gates, more customer conveniences, more Nashville flavor and flair — a world-class airport for our world-class city.
The best is yet to come. As we say at BNA, Hang on — we're going places!
About Nashville International Airport®
As infrastructure critical to the region's growth and prosperity, BNA is a vital asset for Middle Tennessee and serves as a gateway to Music City and beyond. According to a recent State of Tennessee study, in 2019 alone, BNA generated more than $9.9 billion total economic impact.  BNA supported more than 76,000 jobs in the region and produced more than $443 million in state, local and federal taxes. BNA receives no local tax dollars.
NASHVILLE INTERNATIONAL AIRPORT®, 
®, COMMANDER BERRY FIELD®, JOHN C. TUNE AIRPORT®, and JWN®, among others, are the registered trademarks and trademarks of The Metropolitan Nashville Airport Authority ("MNAA"). Use of these trademarks without permission from MNAA is strictly prohibited.