Sep. 21, 2020
Raising the Roof: Canopy Construction Begins in October
Remember the cranes we showed you last week? And remember the distinctive roof canopy you've seen in BNA Vision renderings the last couple of years? Well, canopy construction gets underway in October.
Hensel Phelps shows how it will get built in this video. From renderings to reality!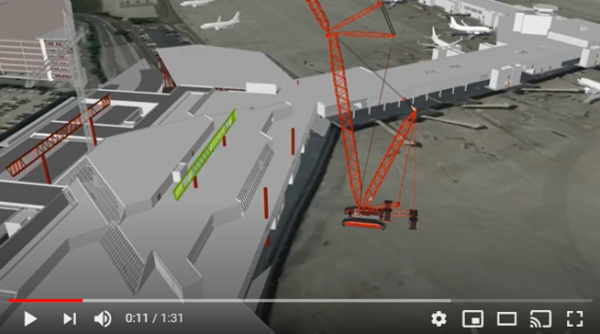 Quick facts:
The new canopy will be 695 feet long and 224 feet wide.
It will stretch from the west face of Terminal Garage 1 (directly across from the Terminal) to the end of the new International Arrivals Facility.
At its highest point, the canopy will stand 105 feet off of Level 1 of Terminal Drive, making it taller than the guitar pick elevator lobby canopy on Terminal Garage 2 (91 feet high).
A pedestrian bridge will be built just beneath the canopy, allowing passengers to cross Terminal Drive above traffic to move between the Terminal and Terminal Garage 1.
About Nashville International Airport®
As infrastructure critical to the region's growth and prosperity, BNA is a vital asset for Middle Tennessee and serves as a gateway to Music City and beyond. According to a recent State of Tennessee study, in 2019 alone, BNA generated more than $9.9 billion total economic impact.  BNA supported more than 76,000 jobs in the region and produced more than $443 million in state, local and federal taxes. BNA receives no local tax dollars.
NASHVILLE INTERNATIONAL AIRPORT®, 
®, COMMANDER BERRY FIELD®, JOHN C. TUNE AIRPORT®, and JWN®, among others, are the registered trademarks and trademarks of The Metropolitan Nashville Airport Authority ("MNAA"). Use of these trademarks without permission from MNAA is strictly prohibited.