Dec. 9, 2020
Some airline ticket counters have moved
 FYI: Flying American Airlines or Allegiant soon? These airlines' ticket counters have moved from the center section of the Ticketing Lobby to the South Terminal ticketing area (near Southwest Airlines). You'll find them there now in newly renovated space.
 TIP: Once you check in with American, Allegiant or Southwest, you'll be just footsteps from the South Security Checkpoint for added convenience. Safe travels! 
COMING SOON: Alaska will join American and Allegiant in the South Terminal ticketing area the week of Dec. 14.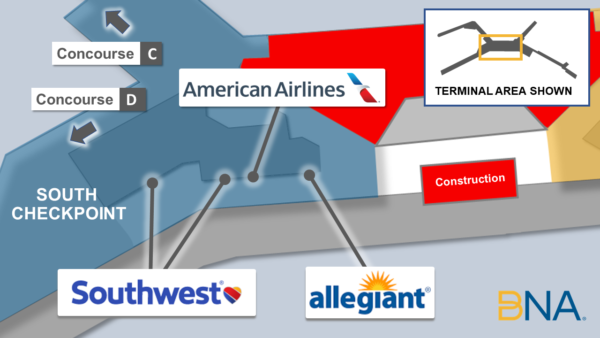 About Nashville International Airport®
As infrastructure critical to the region's growth and prosperity, BNA is a vital asset for Middle Tennessee and serves as a gateway to Music City and beyond. According to a recent State of Tennessee study, in 2019 alone, BNA generated more than $9.9 billion total economic impact.  BNA supported more than 76,000 jobs in the region and produced more than $443 million in state, local and federal taxes. BNA receives no local tax dollars.
NASHVILLE INTERNATIONAL AIRPORT®, 
®, COMMANDER BERRY FIELD®, JOHN C. TUNE AIRPORT®, and JWN®, among others, are the registered trademarks and trademarks of The Metropolitan Nashville Airport Authority ("MNAA"). Use of these trademarks without permission from MNAA is strictly prohibited.