Jan. 15, 2021
2020: A Year in Review for Nashville International Airport®
Pandemic Slowed Travel, But Progress Made for BNA® Vision, JWN® and Other Areas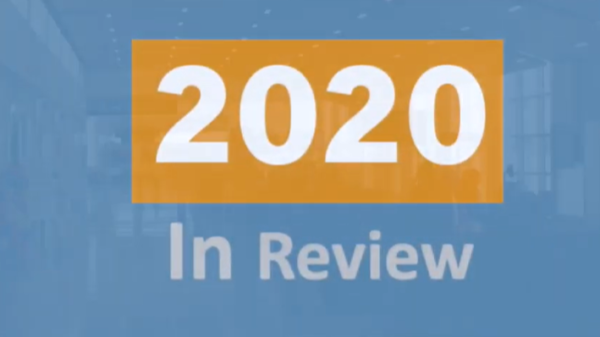 NASHVILLE – With the close of the calendar year, Nashville International Airport took stock of the previous 12 months: Not surprisingly, the COVID-19 pandemic dramatically impacted air travel, especially in the spring, but BNA® achieved significant milestones in other areas, including an ambitious program for John C. Tune Airport®, and is poised to lead a robust economic recovery in the months and years ahead.
BNA passenger numbers for 2020 began with the busiest January and February on record, but quickly dropped as the economy slowed and air travel plummeted in mid-March and throughout April. Passenger traffic has steadily increased since then, and for the year some 8,284,570 passengers moved in and out of BNA, down 54.7 percent from 2019, when the airport set its seventh consecutive year of record-breaking growth with 18,273,434. That said, air travel has increased steadily throughout the year, from 62,533 total passengers in April to 729,293 in December.
The pandemic was not the year's only challenge. John C. Tune Airport, BNA's reliever airport in west Nashville, was devastated by the March 3, 2020, tornado, with more than 90 aircraft, 17 hangars and other airport infrastructure destroyed in the storm. Thanks to around-the-clock effort, flights were soon restored. Since then, JWN, as it is also known, has started an ambitious transformation: construction began on a new air traffic control tower, a major overall redevelopment plan was approved and a new executive director was named.
In response to the pandemic itself, the airport reinforced and enhanced its cleaning and sanitizing protocols, launched a public awareness campaign about CDC best practices, began distributing free face coverings, increased the number of hand sanitizer stations and installed plastic shields at airline counters. And more technology advances have been incorporated or are on the way, including touchless elevator panels and germ-killing UV lighting for escalators and HUVC air-handling systems. "Be Safe. Be Healthy. Be Nashville" emerged as BNA's message to reassure travelers of the precautions taken at the terminal.
Meanwhile, staying focused on future needs, progress continued on schedule for BNA® Vision, the airport's $1.4 billion expansion and renovation program designed to meet the region's projected air travel demand in the years ahead.
The past year also saw the release of BNA's updated economic impact study that analyzed the airport's regional effects for 2019, which exceeded $8 billion—a 14 percent increase over 2018 and an increase of 131 percent since a similar 2012 study. Additionally, more than 76,000 area jobs and $3.2 billion in personal income were supported by activity at BNA in 2019. That same activity resulted in $6.8 billion in business revenue and produced more than $464 million of tax dollars for state, local and federal coffers. As pointed out in the study, BNA receives no local tax dollars.
"With challenges come opportunities," said Doug Kreulen, BNA president and CEO. "I'm enormously proud of how our team responded to the pandemic. From enhancing our cleaning program to adding the latest in sanitizing technology and more, we have focused on keeping our passengers safe and the airport operational. Once COVID wanes, we fully expect BNA to help lead the economic recovery for Middle Tennessee and beyond. "
BNA® Vision and other 2020 milestones:
Opened the new Concourse D, adding six gates and a variety of customer amenities and which has also received prestigious LEED Sliver certification
Opened expanded ticket wings, each with a new security checkpoint
Opened a second, state-of-the art terminal garage and improved Valet Center
Announced a Hilton-branded on-airport hotel, scheduled to open in late 2023
Began full reconstruction of one of four runways per FAA standards
Continued progress on the terminal lobby and international arrivals facility
Awarded contract for terminal access roadways major improvement project
Launched an updated website (flynashville.com)
Launched the BNA Shop, which offers BNA-branded merchandise
Announced 31 new airline routes
About Nashville International Airport®
As infrastructure critical to the region's growth and prosperity, BNA is a vital asset for Middle Tennessee and serves as a gateway to Music City and beyond. According to a recent State of Tennessee study, in 2019 alone, BNA generated more than $9.9 billion total economic impact.  BNA supported more than 76,000 jobs in the region and produced more than $443 million in state, local and federal taxes. BNA receives no local tax dollars.
NASHVILLE INTERNATIONAL AIRPORT®, 
®, COMMANDER BERRY FIELD®, JOHN C. TUNE AIRPORT®, and JWN®, among others, are the registered trademarks and trademarks of The Metropolitan Nashville Airport Authority ("MNAA"). Use of these trademarks without permission from MNAA is strictly prohibited.