Apr. 21, 2021
Airport Authority Awards Contract for New Satellite Concourse
Free-standing Concourse Adds to Scope of 'BNA® Vision' Expansion,
More Gates to Keep Pace with Projected Growth
NASHVILLE – Marking a new phase of expansion, Nashville International Airport® today announced plans for a free-standing satellite concourse near the main terminal to provide more gates to accommodate anticipated growth of air travel demand in Middle Tennessee. In addition to meeting the needs of incremental passenger growth post-pandemic, the availability of the new satellite concourse will enable construction of an expanded Concourse A in the future.
The airport's fifth major concourse is slated to open in late 2023, along with several other projects under way with the airport's ongoing BNA® Vision expansion and renovation plan.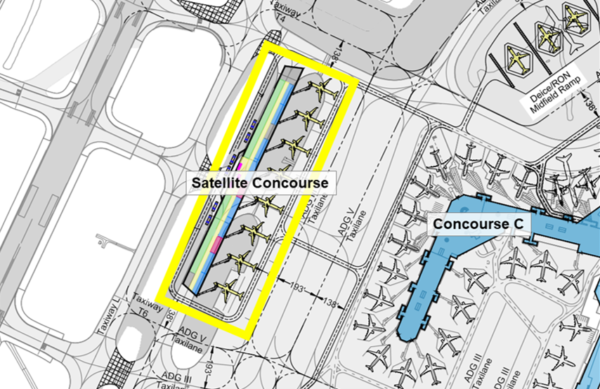 At its monthly meeting today, the Metropolitan Nashville Airport Authority (MNAA) Board of Commissioners awarded Holder Construction the contract for the satellite concourse project and approved an initial $12.65 million contract for pre-construction services. The Board will approve additional funding for construction as the project progresses over the next two years, totaling an estimated $75 million.
"While the pandemic dramatically impacted air travel this past year, the foundations of the economy in Middle Tennessee are solid, and projections indicate strong passenger growth in the years ahead," said Doug Kreulen, BNA president and CEO. "This new concourse and the gates it provides will enhance our ability to meet rising market demand in the near term and facilitate our eventual expansion of Concourse A for additional growth. We congratulate Holder Construction on being selected for this project and look forward to watching it come to life."
Construction is anticipated to start in fall 2021. The 89,000-square-foot facility will add eight domestic aircraft gates, a variety of concessions, customer amenities and interior finishes complementing the signature look established by BNA's new Concourse D. Plans also include a passenger shuttle system that will circulate between the main terminal and the satellite concourse.
The new facility will be built adjacent to the existing Concourse C and will serve narrow-body and regional aircraft. The project includes a goal of approximately $8 million in contract opportunities for small, minority and woman-owned business enterprises (SMWBEs) and is estimated to create between 700 and 1,000 jobs.
The contractor for this project, Atlanta-based Holder Construction, is a commercial construction firm with a 60-year history in sectors including aviation, corporate, data and technology, higher education, hospitality, interiors and other construction. Joining Holder on the design-build team are respected firms Corgan (lead architect for this project and master architect for BNA® Vision) and Gresham Smith.
"We have a long-standing relationship delivering successful projects with our design-build partners Corgan and Gresham Smith. We truly appreciate the opportunity to further our relationship with MNAA through this important design-build Satellite Concourse project," said Michael Burnett, Holder Construction senior vice president. "We are excited to partner with the Greater Nashville and Central Tennessee trade and SMWBE businesses bringing skilled labor jobs to the airport. The Satellite Concourse award brings much needed optimism to the aviation sector for a post-COVID-19 rebound."
Other key partners will include Logan Patri (structural design), Garver (civil engineering), Shrewsberry (civil engineering), Foth (civil engineering), I. C. Thomasson Associates Inc. (mechanical, electrical, plumbing and fire protection engineering), DF&H (mechanical, electrical, plumbing and fire protection engineering), Arora (special systems), WJE (life safety), Argus (fueling design), TRTH Consulting (management support), KS Ware (geotechnical), CIA (survey), Alliance Synergy (SMWBE consulting), Pillars (construction management) and Connico (scheduling).
The satellite concourse project is a major component of BNA® Vision. Projects completed to date include two terminal parking garages, Concourse D, new ticketing and baggage claim space and phase 1 of the terminal apron and taxilane expansion. Other projects slated for completion in 2023 include a state-of-the-art International Arrivals Facility, expansion of the central security screening checkpoint, major renovations of the central terminal, another terminal garage, an on-airport, Hilton-branded hotel and phase 2 of the terminal apron and taxilane expansion. Additionally, a major terminal roadways improvement project is slated for completion in late 2024.
As with all other airport capital improvement projects, no local tax dollars are used to fund BNA® Vision. Take a virtual 360-degree tour, view renderings and watch the BNA® Vision video at BNAVision.com.
About Nashville International Airport®
As infrastructure critical to the region's growth and prosperity, BNA is a vital asset for Middle Tennessee and serves as a gateway to Music City and beyond. According to a recent State of Tennessee study, in 2019 alone, BNA generated more than $9.9 billion total economic impact.  BNA supported more than 76,000 jobs in the region and produced more than $443 million in state, local and federal taxes. BNA receives no local tax dollars.
NASHVILLE INTERNATIONAL AIRPORT®, 
®, COMMANDER BERRY FIELD®, JOHN C. TUNE AIRPORT®, and JWN®, among others, are the registered trademarks and trademarks of The Metropolitan Nashville Airport Authority ("MNAA"). Use of these trademarks without permission from MNAA is strictly prohibited.