Dec. 27, 2021
Reminder: Traffic impacts on weeknights and some Saturday nights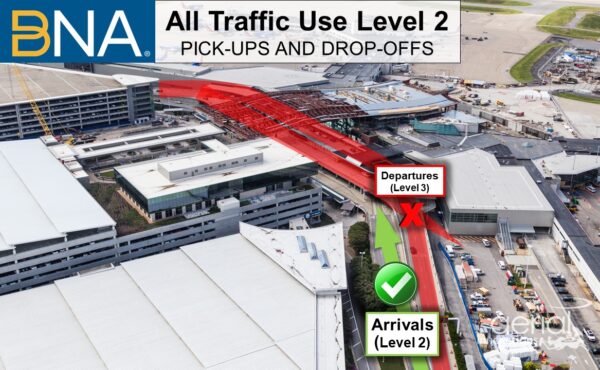 REMINDER for evening hours: As overhead construction continues at night, the Departures level road is closed on weeknights between 9 p.m. and 4 a.m. and on select Saturday nights. You may experience heavy traffic at times.
 Departures level vehicle lanes are closed between 9 p.m. and 4 a.m. on weeknights.
 All terminal traffic is being routed to the Arrivals level for pick-ups and drop-offs during these hours. All lanes will be open as normal during daytime and early evening hours. 
About Nashville International Airport®
As infrastructure critical to the region's growth and prosperity, BNA is a vital asset for Middle Tennessee and serves as a gateway to Music City and beyond. According to a recent State of Tennessee study, in 2019 alone, BNA generated more than $9.9 billion total economic impact.  BNA supported more than 76,000 jobs in the region and produced more than $443 million in state, local and federal taxes. BNA receives no local tax dollars.
NASHVILLE INTERNATIONAL AIRPORT®, 
®, COMMANDER BERRY FIELD®, JOHN C. TUNE AIRPORT®, and JWN®, among others, are the registered trademarks and trademarks of The Metropolitan Nashville Airport Authority ("MNAA"). Use of these trademarks without permission from MNAA is strictly prohibited.