Dec. 30, 2021
Watch it Build: New Terminal Canopy and International Arrivals Facility
Now, this is one we've been waiting to share for some time now. See the new terminal roof canopy build (and the start of the new International Arrivals Facility at lower left) in two minutes.
Timeframe: November 2020 to today. 425 days of construction in seconds.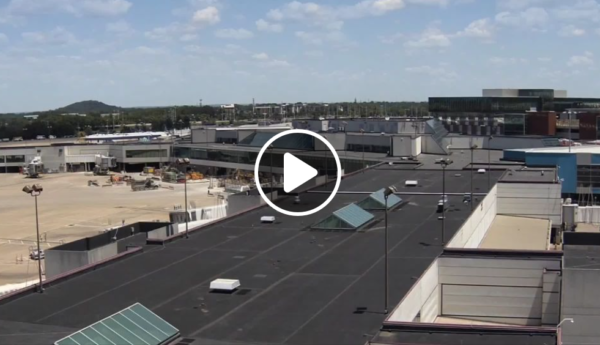 Project Details:
New canopy:
695 feet long and 224 feet wide
At its highest point, the canopy will stand 105 feet off of Level 1 of Terminal Drive, making it taller than the guitar pick elevator lobby canopy on Terminal Garage 2 (91 feet high).
State-of-the-art International Arrivals Facility:
6 international gates are being added to accommodate rising demand for international service and attract new service to and from Europe, Asia, Latin America and more New Customs and Border Protection (CBP) area.
Gates will be used for arriving AND departing passengers.
New Customs and Border Protection area for fast and efficient passenger screening.
Project Team:
Master architect for BNA® Vision: Corgan
Design-build team: Hensel Phelps and Fentress Architects
About Nashville International Airport®
As infrastructure critical to the region's growth and prosperity, BNA is a vital asset for Middle Tennessee and serves as a gateway to Music City and beyond. According to a recent State of Tennessee study, in 2019 alone, BNA generated more than $9.9 billion total economic impact.  BNA supported more than 76,000 jobs in the region and produced more than $443 million in state, local and federal taxes. BNA receives no local tax dollars.
NASHVILLE INTERNATIONAL AIRPORT®, 
®, COMMANDER BERRY FIELD®, JOHN C. TUNE AIRPORT®, and JWN®, among others, are the registered trademarks and trademarks of The Metropolitan Nashville Airport Authority ("MNAA"). Use of these trademarks without permission from MNAA is strictly prohibited.