Sep. 28, 2020
A Big Change is Coming Oct. 6
As progress continues on our BNA Vision expansion and renovation plan, there's a change you'll need to know about.
Beginning Oct. 6, 2020, the central escalators, elevator and stairs, and the current Level 1 entrance will close due to construction. But don't worry!
New escalators will open on the North and South sides of Levels 1, 2 and 3 to help you move between levels.
New entrances are also opening on Level 1 this week, and the ground-floor escalators and elevators are right inside.
Signs will direct you to the new entrances.

Have a heavy bag? When you enter on Level 1, elevators are located just past the escalators for an easy ride to the Departures level.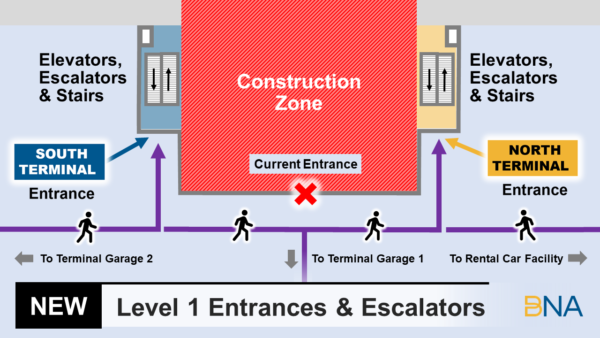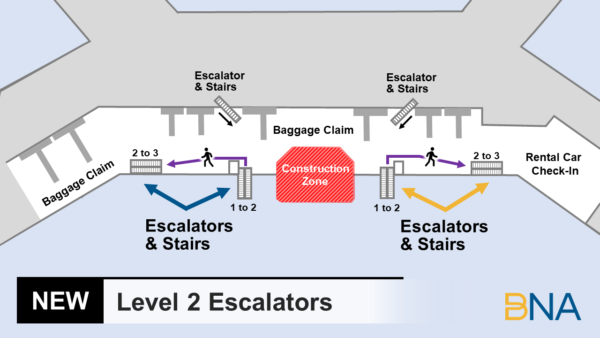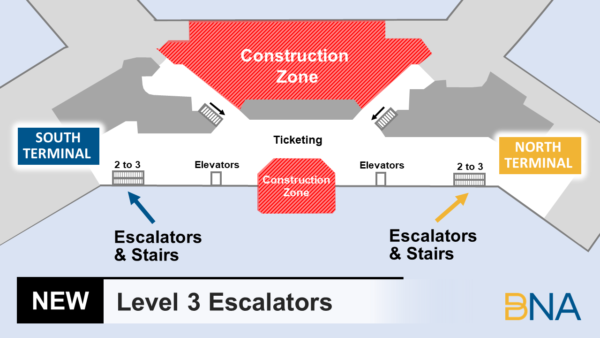 Here's why:
We're undergoing a major terminal renovation, complete with a higher roof and a distinctive new roof canopy.
To do this, we have to build a 198-foot tower crane where the central elevator and stairs are today. That means demolishing the central escalators, elevator and stairs.
This closure is necessary for the safety of our passengers, guests and employees.
Thank you for your patience as we build a bigger, better BNA. It's going to be world-class!
Click here to watch a video simulation of canopy construction.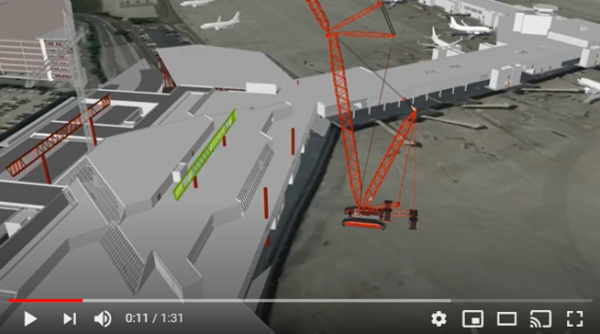 About Nashville International Airport®
As infrastructure critical to the region's growth and prosperity, BNA is a vital asset for Middle Tennessee and serves as a gateway to Music City and beyond. According to a recent study, in 2019 alone, BNA generated more than $8.1 billion in total economic impact, supported more than 76,000 jobs in the region and produced more than $443 million in state, local and federal taxes. BNA receives no local tax dollars. For more information, visit flynashville.com. Follow us on Facebook: @NashvilleInternationalAirport, Twitter: @Fly_Nashville and Instagram: @FlyNashville. Learn more about BNA® Vision, our expansion and renovation plan for the airport, at BNAVision.com.
NASHVILLE INTERNATIONAL AIRPORT®, 
®, COMMANDER BERRY FIELD®, JOHN C. TUNE AIRPORT®, and JWN®, among others, are the registered trademarks and trademarks of The Metropolitan Nashville Airport Authority ("MNAA"). Use of these trademarks without permission from MNAA is strictly prohibited.