Dec. 9, 2020
BNA® to Close Center of Terminal Lobby in late December as Expansion, Renovation Continues
All Ticketing, Check-In and Passenger Screening will Continue at North and South Ends of Departures Level
* For digital renderings, visit https://www.dropbox.com/sh/02xgs0kub9w1lrp/AAAOUyV6H5LB_qqKOh6CVFUta?dl=0
NASHVILLE – As the expansion and renovation of Nashville International Airport® continues, travelers need to be aware that the Terminal's central ticketing lobby will completely close on Dec. 28 and remain that way until 2023.
All ticketing, check-in and passenger screening will continue at the north and south ends of the Departures level, so it's important to use the correct entrance.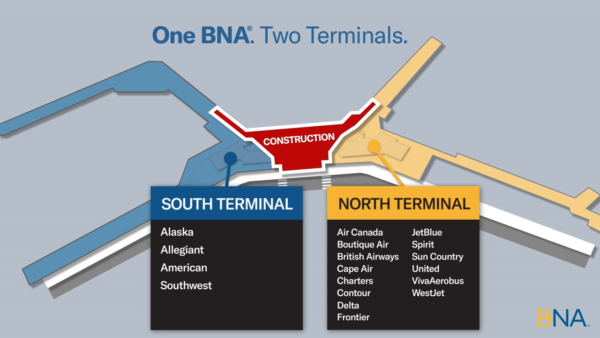 The Terminal lobby is being closed to facilitate the next phase of construction, which will bring enhanced facilities to BNA's central terminal with a larger entrance hall, an expanded central security checkpoint with 24 screening lanes, a state-of-the-art International Arrivals Facility with six aircraft gates, a new marketplace just beyond the security checkpoint and extensive terminal renovations inside and out. Completion of these projects is slated for 2023.
Five things to know:
As announced in August, BNA® (as the airport is also known) now operates as two terminals: North Terminal and South Terminal. North Terminal is for A and B gates, and South Terminal is for C and D gates. (There is no passage between terminals once past security screening, and beginning Dec. 28, there will be no passage through the center of the Departures level.)
Passengers will need to know their airline and which terminal it uses—North or South—and go to the correct terminal when they arrive. A list of airlines by terminal can be found here: bnavisionnashville.com/construction.
Signs on airport roadways, at curbside drop-off and inside the terminal will help passengers match their airline to the correct terminal and find their way to the right place.
Because travelers will no longer be able to pass through the center of the Ticketing Lobby, passengers who enter on the wrong side of the building will need to exit and take the sidewalk to the correct side. Again, ample signage provides direction.
An interactive map showing the locations of airline ticket counters and security checkpoints can be found here: map.flynashville.com
Information kiosks are located inside BNA's North Terminal and South Terminal for passenger assistance.
It's all part of BNA® Vision, the airport's dynamic plan to build a bigger, better airport to meet what has been record-breaking passenger growth over the past several years. This year alone, the expansion program featured the opening of a new Concourse D, new ticketing wings, two new interim security checkpoints and a second terminal garage with 2,000 parking spaces.
As with all other airport capital improvement projects, no local tax dollars are being used to fund BNA Vision. Take a virtual 360-degree tour, view renderings and watch the BNA Vision video at BNAVision.com.
About Nashville International Airport®
As infrastructure critical to the region's growth and prosperity, BNA is a vital asset for Middle Tennessee and serves as a gateway to Music City and beyond. According to a recent State of Tennessee study, in 2019 alone, BNA generated more than $9.9 billion total economic impact.  BNA supported more than 76,000 jobs in the region and produced more than $443 million in state, local and federal taxes. BNA receives no local tax dollars.
NASHVILLE INTERNATIONAL AIRPORT®, 
®, COMMANDER BERRY FIELD®, JOHN C. TUNE AIRPORT®, and JWN®, among others, are the registered trademarks and trademarks of The Metropolitan Nashville Airport Authority ("MNAA"). Use of these trademarks without permission from MNAA is strictly prohibited.